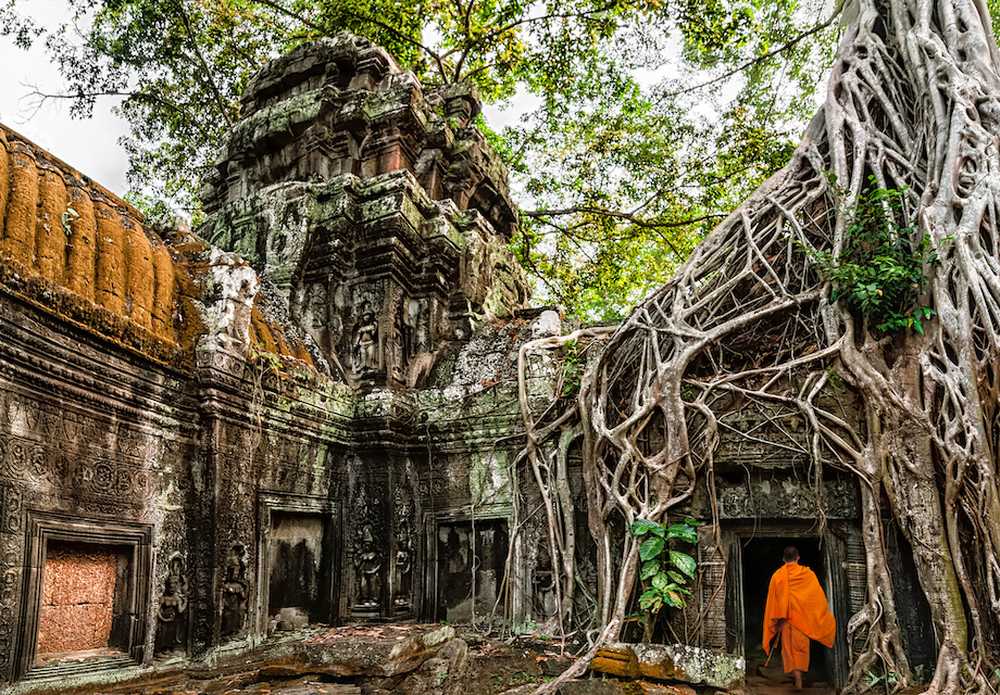 We've been known to splurge now and again. When finances allow, bring on the private islands, the glamping adventures, and the bucket list hotels. We'll happily do our best impression of a Russian billionaire with the travel bug.
But when the bank account has been decimated from one too many indulgences, it's time to reassess those jetsetting habits. It can't all be rubbing shoulders with Sir Richard on Necker Island.
Fortunately, there are plenty of global destinations that promise remarkable experiences at affordable prices. The cheapest countries to visit can be explored for less than the cost of a dinner date per day, so put down Tinder and save those funds for a change of scenery. These 9 countries offer maximum bang for your holiday buck.
Cambodia
Even in Southeast Asia, a region known for budget-conscious travel, Cambodia stands out as shockingly cheap. What the country lacks in high prices it makes up for in riches of other kinds - a wealth of complex history, spectacular scenery, friendly people, and tasty food. The temple complex of Angkor Wat is Cambodia's most famous destination (deservedly so). Also worth a visit are the glittering spires of Phnom Penh's Royal Palace and the sandy strips of Sihanoukville.
Nicaragua
Nicaragua was off the radar for years due to a combination of natural disasters and political unrest. The good news is that those days are in the past, and the country is rapidly developing a reputation as "the next Costa Rica." Adventure travellers are increasingly choosing Nicaragua for hiking, surfing, kayaking, biking, and boarding down an active volcano (yes, really) while the culturally curious flock to the colonial towns of León and Granada.
Turkey
Perhaps you've seen the ancient ruins of Ephesus on Instagram. Or the venerable architecture of Hagia Sophia. Or the surreal hot springs of Pamukkale. Or the fairytale topography (and hot air balloons) of Cappadocia. A perfect conflation of east and west, Turkey is brimming with unique experiences and miraculous landscapes waiting to be explored. Be sure to venture beyond Istanbul for some of the most memorable, and affordable, opportunities.
India
India remains one of the cheapest countries to visit if your globe-trotting has a spending limit. And as one of the world's largest nations, it offers no shortage of incredible things to see, do, and eat on the cheap. Goa is the go-to for beaches and all-night parties. Mumbai is an architectural feast. Ladakh and Varanasi are sacred and soulful. Agra is home to the Taj Mahal. You could even see some of the world's finest erotic temple art in the carvings of Khajuraho.
Bulgaria
Though its capital is believed to be the second oldest city in Europe, Bulgaria is surprisingly untouched by tourists. Sofia offers old world charm and a chilled-out vibe (just don't expect the opulent metropolis you'd get in a western capital). Outside of Sofia, Bulgaria continues to blend ancient and modern. Fortresses, ruins, tombs, and caves remind of eras long gone by. Black Sea resorts and Pirin ski slopes tell more contemporary tales. It's all beautiful and not yet saturated with bargain-hungry holidaymakers.
Panama
From coffee farms to cloud forests, Panama has far more to recommend it than the famous canal. Panama City is the most cosmopolitan capital in Central America. The coasts pack plenty of postcard-perfect beaches. The highlands boast rugged natural beauty and some of the world's finest caffeine beans. In a world where native cultures and untouched wilderness are rapidly disappearing, Panama is beating the odds with both intact.
Vietnam
Recent years have seen an increase in Vietnam's popularity. Despite its newfound status as a tourist destination, the country remains largely unspoiled and inexpensive. Head to Ho Chi Minh City for urban chaos. Hit Phu Quoc Island for sun and sand. Rural adventures can be found in the far north, and the floating worlds of the Mekong Delta and Hạ Long Bay are guaranteed to inspire. If you're feeling especially adventurous, take a cooking class and learn to make your favourite local dish.
Albania
Ever heard of the Albanian Riviera? No? Exactly. The area along the Ionian Sea is a hub for nightlife, ecotourism, and elite retreats, but the country has yet to explode as far as tourism goes. Those in the know come for beaches, mountains, castles, ancient cities, archeological sites, and yes, prices that soundly beat Europe's more famous rivieras. Call Albania the dark horse hit of the Balkans.
Nepal
Following the devastating earthquake that struck in 2015, most of Nepal is open for tourism once again. The country is a haven for mountain lovers. Eight of the world's 10 tallest peaks (including Mount Everest) call the nation home, as do many of the Himalayas' most iconic hiking trails. Adrenaline junkies can also get their fix kayaking, rafting, biking, paragliding, and bungee jumping against Nepal's dramatic natural backdrop.